THE BIOGRAPHY OF TILLY-BEAR

VITAL STATISTICS
Pedigree: Vermont Teddy Bear, copyright 1994
Height: 17.0 inches
Weight: 20 oz
Color: Tan
Occupation: Evangelist

Grandma Ada was suffering from very painful arthritis in her ankle. Mother's Day 1995 was coming soon and she needed something special to cheer her up. What better way than to send her a Vermont Teddy Bear of her own.
The bear was ordered on Monday, May 8th. The order was for an injured, tan, 15 inch bear, with a bandage around her right foot. A message, written in teddy bear talk, had been specially written for the card. The bear was to be sent UPS Blue and arrive on Wednesday, May 10th.
Mother's Day came and went, but there was no phone call from Grandma Ada. Surely, she would have called after getting a Vermont Teddy Bear. Receiving one is such a special occasion. Besides, the Beargram was written just for her in teddy bear talk. It had to cheer her up. She most certainly would have called. Something must be wrong.
On Tuesday night, May 17th, Lance called his mom to find out how she was doing and to see if any teddy bears had shown up at her door step. It turned out that one had arrived in a Vermont Teddy Bear box, but there was no card to indicate who sent it or why. The bear was nude. There was no hospital johnny, bandage, or candy in the box. The bear hadn't even been secured with a seat belt. It must have bounced around all over the place during the trip.
The next morning Lance phoned the Customer Service Department at Vermont Teddy Bear and told them what happened. According to the computer, the order was entered correctly except for one thing: The message for the card was missing. For the second time, the message for the card, written in teddy bear talk, was dictated over the phone. Then, everything that was missing from the original order was sent that afternoon UPS Blue.
A week later, Lance checked with his mom to make sure everything finally arrived. She got the hospital johnny, a bandage, and the candy, but NO CARD. Again Lance called Vermont Teddy Bear and spoke with the same customer service representative to figure out what happened to the card. Believe it or not, the computer lost the card again. Since the computer was not cooperating, the message was faxed to Vermont Teddy Bear, a card was made by hand, then mailed. Finally, it arrived a couple of days later.
Now it was time to give the bear a name. Lance's mom decided to name the bear Tillie Bear. Tillie sounds like silly, and she thought that the bear looked like a Tillie. Besides, everybody's got an Aunt Tillie.
Vermont Teddy Bears have soft paws but no claws, no mouth, and no teeth. Small children can safely play with these bears because the bears will never scratch or bite, even if abused. Unfortunately this leaves bears, like Tillie, defenseless against other family pets - and Grandma Ada has lots of pets. She has eight cats with claws in their paws; mouths and sharp teeth; that scratch and bite. They could easily have torn Tillie apart. For her own safety, Tillie was put back in her shipping box and kept up in the attic - safe and out of harm's way.
From the moment she arrived in New Jersey, Theodore always considered Tillie Bear to be his sister. He was heart broken to find out that Tillie was living in her box in the attic, with only the light passing through the air hole keeping her from total darkness. Theodore, on the other hand, had enjoyed a summer of boating, fishing, flying kites, and shooting off model rockets. He wished that Tillie, who he had never seen, could be part of the fun. When Lance suggested to his mom that Tillie move to Vermont and live with Theodore, she agreed. A few weeks later, Tillie arrived in Vermont.
Tillie was shipped in the same Vermont Teddy Bear box that was used to send her to New Jersey. She arrived, naked with her tags still tied to her right paw. The hospital johnny and bandage were in the bottom of the box. Tillie seemed very withdrawn and insecure. She was afraid, and acted as if anything she might do would be wrong.
The first order of business was to remove the tags on her right paw. The elastic was on so tight and had been left on so long that Tillie's right paw was now deformed. It took several months for the paw to assume most of its natural shape. Next, her name was changed from Tillie Bear (two words) to Tilly-Bear (one word, hyphenated).
A couple of days later, she went shopping for some clothes at the Vermont Teddy Bear Company retail store. For everyday wear she chose a purple sewing dress. For special occasions, she bought the Ice Skater Bear's sweater and wool skirt. Unfortunately, the panties were sold out, so Tilly-Bear had to go bear bottom for a while.
After having only a hospital johnny to wear, the joy of owning such nice clothes was overwhelming. Some people don't believe that teddy bears cry, but they do. Sometimes for sadness, but this time for joy. New clothes meant that she was no longer to be an injured bear. Instead, she was to be a happy, fun loving bear. From now on she was to put smiles on faces whenever she could, and always be available for a hug where ever one was needed.
A few weeks later, brother Theodore took a bath in the washing machine. Tilly-Bear never saw anybody take a bath in a washing machine, so she wanted to watch. The lid to the washer was propped open so Tilly-Bear could lay belly down and peek over the edge.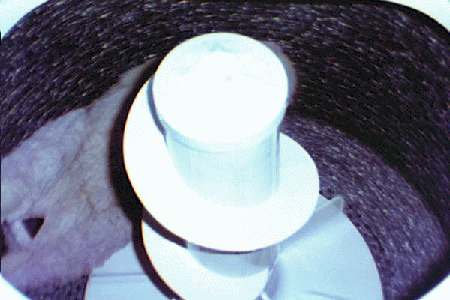 The spin cycle looked really cool.
She thought going swish swash was fun, but the spin cycle looked really cool. So she jumped in, clothes and all. The look on Lance's face must have been priceless when he came downstairs to add the fabric softener. First, there was panic because Tilly-Bear was gone, followed by disbelief when she was found in the washing machine taking a bath with Theodore. Then we knew. We knew that she was no longer Tillie Bear - but had finally become Tilly-Bear.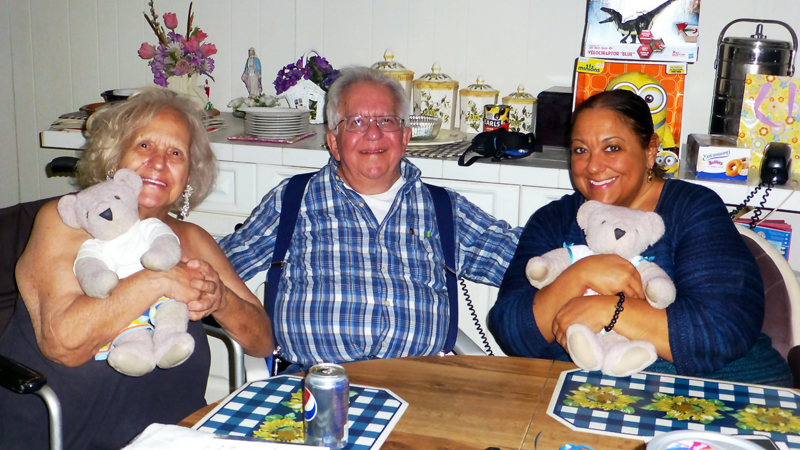 In this photo taken August 21, 2015 is Grandma Aida (age 92) holding Theodore, Lance, and Aunt Lisa holding Tilly-Bear.
Theodore and Tilly-Bear visiting Grandma Ada and Lance's sister, Lisa. Lance's mother is very still very active although she can no longer walk because of her bad ankle.
Now that you've read Tilly-Bear's biography, here's a mystery for you to solve. Who sent Lance's mother the bear? If you think you know, really know, then press the big red button below. If you're not sure, then read the story again and see if you can figure it out. Don't cheat.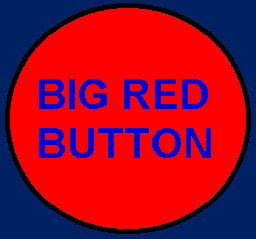 ---

(c) copyright 1996-2015 by Lance Micklus - All rights reserved