THE BIOGRAPHY OF THEODORE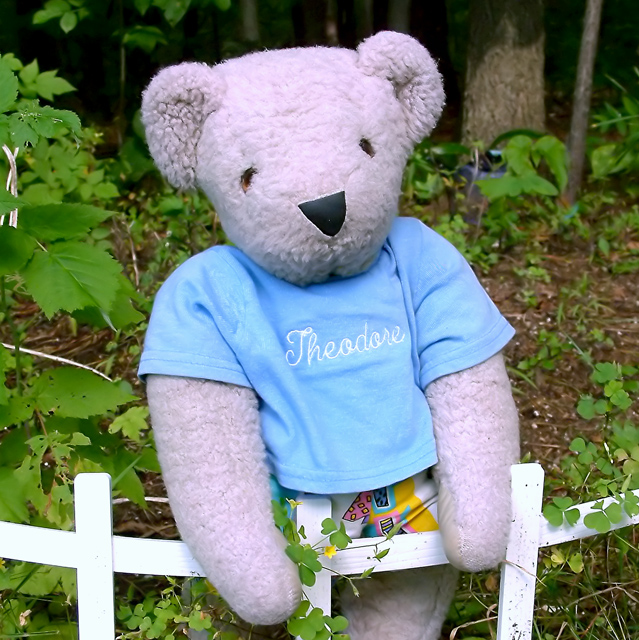 VITAL STATISTICS
Pedigree: Vermont Teddy Bear, copyright 1992
Height: 17.5 inches
Weight: 18 oz
Color: Tan
Occupation: Evangelist

Three weeks before Mother's Day 1994, a couple of hundred Norrell Temporary Employees joined the ranks of regular bear counselors at The Vermont Teddy Bear Company in anticipation of a sales peak. Tony, Lance's son, is the one who suggested to both his dad and Kim, his bride-to-be, that they sign up for bear duty - which they did.
At that time, Vermont Teddy Bear was located in what was then called The Teddy Bear Commons in Shelburne, Vermont. In order to make room for the additional bear counselors, several rooms were rented at the Yankee Doodle Motel, located on adjoining property just north of the commons. Every available motel room was turned into a phone center, complete with PC computers and a variety of Vermont Teddy Bears to give it atmosphere.
All Vermont Teddy Bear employees are encouraged to make sure each bear gets at least one hug per day. Bear Counselors are even urged to play with the bears when the phones aren't busy. The bear in front of Lance's work area was a 15 inch tan bear which had no outfit, not even a ribbon. It was a bare bear. Lance, being a fun loving guy, played the part to the hilt. He combed the bear's fur every day, cuddled it, invented games to play with it, and made sure it got plenty of hugs and love.
Tony and Kim were to be married one week after Mother's Day, on May 15th. Lance wanted to get them a bride and groom bear set. Not only would this make a wonderful wedding gift, the bears could also be used as ring bearers during the ceremony.
Lance waited until his last day of work, Friday, May 6th, to purchase the bears. By this time, he had come to like the teddy bears so much that he decided to buy one for himself. He wanted the 15 inch tan bear that had been at his work station in the motel, but it was not to be. By the time Lance got to work on Friday, the bear was gone. Someone on the day shift had also taken a liking to the same bear and bought it that morning.
Sad over the loss of his friend, Lance went to the retail store to select a bride and groom bear for the wedding, all the while searching for a third bear for himself. There were many 15 inch tan bears in the store, but only one had gentle eyes that gave it a cute, kind looking face, suggesting a pleasant personality. This is the bear Lance chose over all the others. The bear was named THEODORE because he was a TEDDY bear. Teddy is, of course, short for Theodore.
On May 15, 1994, son Anthony married Kimberly. The bride and groom bears were present at the altar as ring bearers - an idea that worked out very well. Theodore, who normally doesn't wear clothes, dressed up for the occasion by wearing a black bow tie - just a black bow tie. Unfortunately, Theodore got left behind in the house and missed the entire wedding.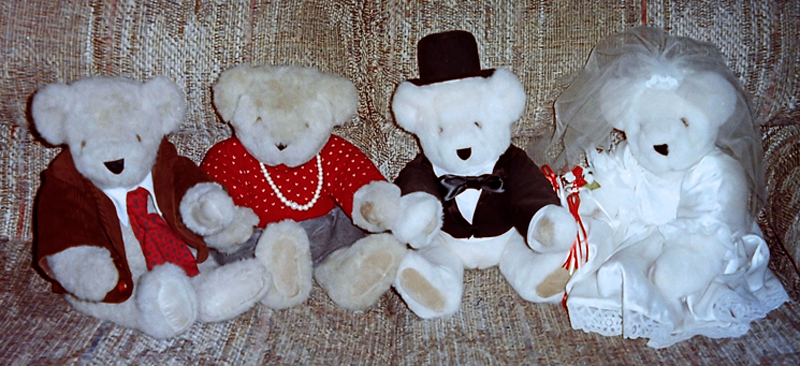 Above: Theodore and Tilly-Bear visit their friends, Mr. and Mrs. Bear.
To make it up to him, Lance and his wife, Dianne, took Theodore out on their boat the following week to do some fishing. Bears are excellent fishermen. Maybe bringing a bear on the boat would help increase the catch.
Boating is one of the few occasions when Theodore dresses up because he likes to flirt. Wearing his jams and cool looking sunglasses, he likes to jump up and wave at children in other boats that pass close enough to see him. "Look," you can hear the children yell over the water, "there's a teddy bear wearing sunglasses." There's something incredibly funny about a teddy bear wearing sunglasses.
If Theodore could talk, most likely he would say his most memorable moment was at Christmas time. Lance was leading a Bible study, talking about the birth of Jesus. Theodore got to play the part of baby Jesus. What an honor. Assisting Theodore in the presentation was Tiny Ted, who played baby Jesus' teddy bear. Tilly-Bear was the Blessed Virgin Mary.
---

(c) copyright 1996-2015 by Lance Micklus - All rights reserved