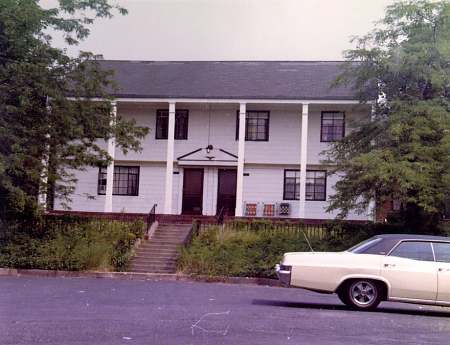 The photo above shows the Micklus apartment at 68 Richfield Village in Clifton, New Jersey, as it appeared in 1985. When family moved here in 1950, they were the first tenants and all the buildings were new. So new, in fact, that there was no grass, trees, or shrubs. No other building in the apartment complex was made like this one. The full length porch, pillars, and white paint made it look like the White House from a distance. The upper left most window (now hidden by a tree) is where Lance's bedroom used to be.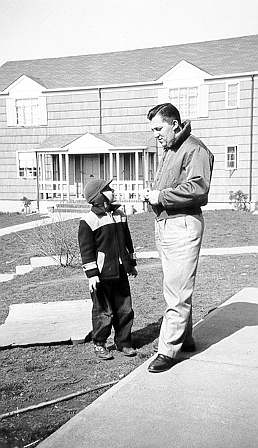 This photo was taken shortly after the family moved in. Unlike the color photo taken in 1985, this 1950 photo shows the lack of any landscaping. Lance's father is 5' 6", making Lance, age 5, about 2' 9" tall when this picture was taken.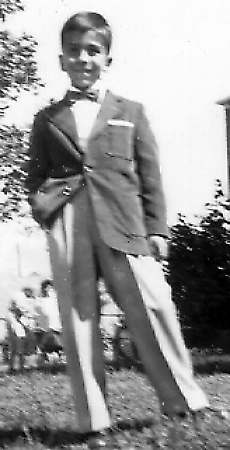 This photo was taken on the left side of the Richfield Village apartment shown above sometime around 1951. The occasion for having this photo taken is not known. It could have been that Lance was just dressed up to go to church Sunday morning. Lance's father was very particular that his son always be well dressed - as this picture clearly shows. It's also interesting to note that this pictures shows Lance standing on grass and there are trees in the background.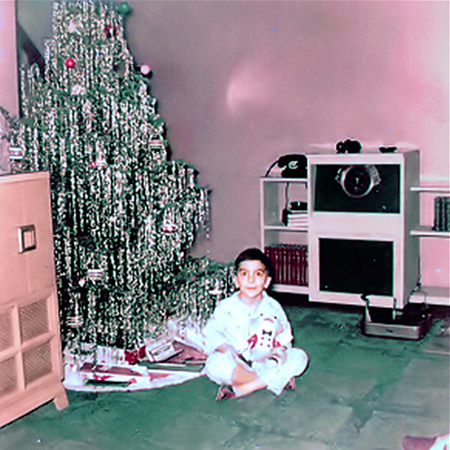 This photo was taken on Christmas morning of 1951. It is believed to be the first color photo taken of Lance. On the right side of the picture is a radio-phonograph. There's a 78 RPM record changer on the floor. The radio was always tuned to 1130 on the AM dial, WNEW, New York. Another classic in this picture is the Western Electric black dial telephone seen on the top left shelf of the radio. The Admiral TV set on the left was the family's first television. It featured doors that closed (as shown) to hide the television set and make it look like a bookcase. At that time, television sets were considered ugly.
The family tradition was to go to the Micklus grandparents' home in Garfield on Christmas Eve to open presents. Then, on Christmas morning, when Lance woke up he opened Santa's gifts under his tree in the living room. On this Christmas morning, Santa brought Lance a rubber frog to play with in the bath tub. The toad is wearing a bow tie, red coat, and white shirt.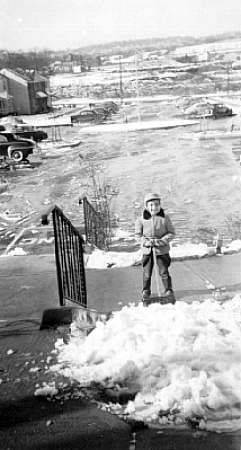 This picture, also taken on Christmas day, 1951, shows how much snow there was on the ground that year. It's a good thing Santa brought Lance a snow shovel. What's most interesting about this picture is what you don't see. In the distant background there's no shopping center or Garden State Parkway.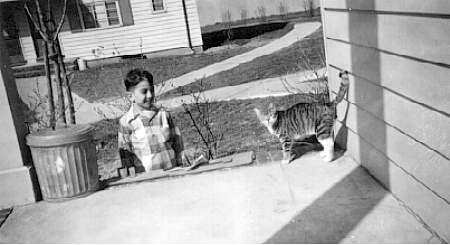 This is Chetah, the family cat. She had one litter of six kittens of which one died at birth, three were given away, and the other two were kept. One kitten was named Tuffy after a Roller Derby skater. Tuffy choked to death trying to eat some string. The other kitten, Blacky, was run over by a car. Chetah is another story. One day when Lance ran out of the apartment to play with friends, he slammed the front door on Chetah's tail as she tried to make a mad dash out of the house behind him. When Lance push the door open to free her, she took off and was never seen again.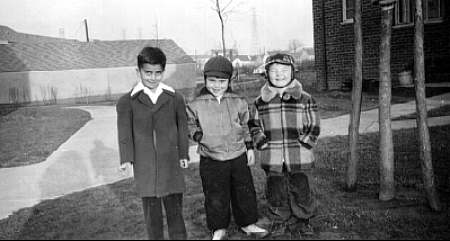 Thank goodness somebody wrote notes on the back of this picture or we would never know the names of these two boys. They are Micheal Frattarolla (middle) and Johnny Donahue (right). Both lived in the apartment complex and were Lance's two best friends. This picture was taken in October of 1951.

---

(c) copyright 1997-2013 by Lance Micklus - All rights reserved