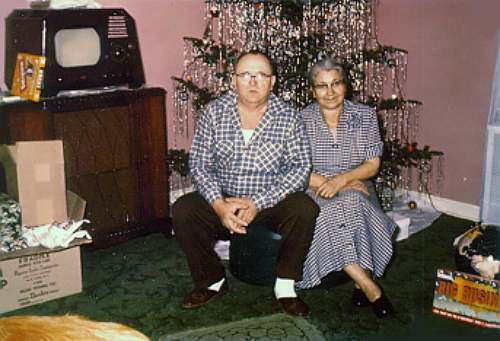 The picture above shows Lance's grandparents on the on the Micklus side. In the picture, to the left of the TV, is a game called Skunk. In the low right side of the photo, in front of the world globe, is a board game called Big Business.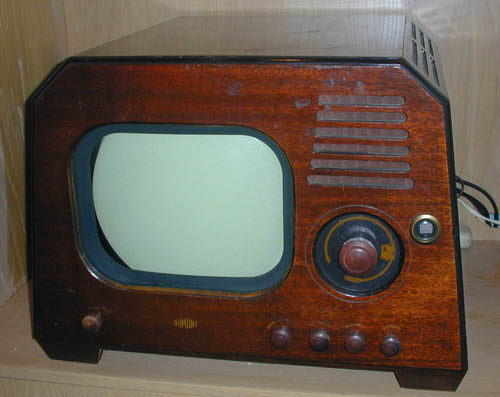 The TV in the photo is a Dumont RA-103. It was purchase in 1945 after the war ended. This TV set featured a 12 inch picture tube and could receive both FM radio and all of the VHF television stations including channel 1.
The story of the Micklus name brings up some very interesting questions. According to his passport issued in 1958, the name of Lance's grandfather is Steve Miklus (note there is no "C" in the last name). He was born in Czechoslovakia on December 20, 1895. He is 5' 8" with brown eyes and his occupation is listed as a machine operator. There are two places on the passport where he signed his name - both times as Steve Miklus. Yet, on his New Jersey driver's license, his name is Stephen Micklus. Several family members confirm that he also used the first name of Stephen, not Steve.
From stories passed on by relatives, Grandfather Micklus went to agricultural college in Czechoslovakia. When World War I broke out, the family sent him to America to keep him out of the war. It appears that at Ellis Island, his last name was changed from Miklus to Micklus. This would explain how the letter "C" got added to his name.
During the next few years, he met Bertha Kurtis of Bayonne, New Jersey and married her around 1920. Since she was born in New Jersey, she was a U.S. citizen. By marrying her, Grandfather Micklus also became a U.S. citizen.
On December 23, 1922, Bertha Micklus gave birth to her first child and only boy, Steven Andrew Micklus. He is Lance's father. Later came two daughters, Dorothy and Jean - Lance's aunts.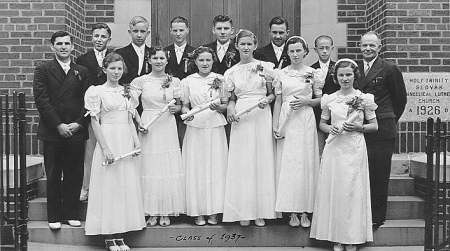 There are no family pictures in existance until World War II. Only a few pictures taken by a professional photographer for some special occasion exist. One such example is this photo of the 1937 confirmation class at Holy Trinity Slovik Evangelical Luthern Church in Garfield, New Jersey. Lance's father, Steve, is in the back row, second going from left to right.
The family was very poor. Lance's father often couldn't do homework because he had no money to buy any paper or a pencil. He also got very little sleep. Everybody in the family worked full-time jobs to make what little money they could. Lance's father had a news paper route, worked as a pin setter in a bowling alley, and worked a full-time job third shift in a factory while going to school. Grandmother Micklus worked in a woolen mill - a real sweat shop.
When the U.S. entered World War II, the family fortune changed. Good paying jobs were available and there was plenty of work. Another change is that an Agfa camera now became affordable. This may explain why, all of a sudden, there are many snapshot photos.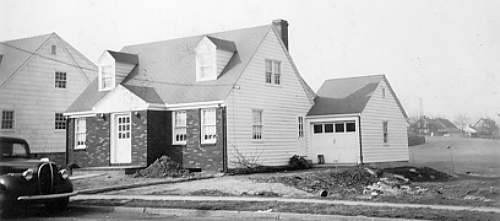 There is a whole box of pictures showing the construction of this house at 25 Wilson Street in Garfield, New Jersey. The house cost $5,000 to build. It was bought from Sears and Roebuck. Most people have forgotten that Sears used to sell entire houses. This picture was probably taken in 1943. Grandfather Micklus owned all of the property in back of the house to the next street. He farmed the land and grew many different kinds of vegetables. What the family couldn't eat, they gave to their neightbors. They were very generous and giving people.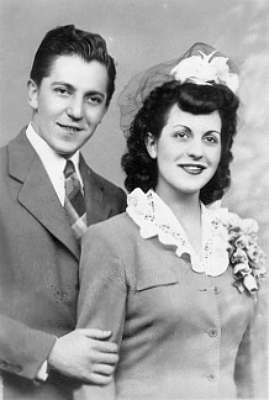 Lance's father was rejected for military service during World War II because he suffered from Nephritis, a kidney disease. He contributed to the war effort by helping to build military radar units for the Allen B. DuMont company in Clifton, New Jersey. It was during this time that he met an Italian girl named Aida Renta, who also worked at the same DuMont plant, as a radar mechnical inspector. The two began dating, fell in love, and married. This is their wedding picture.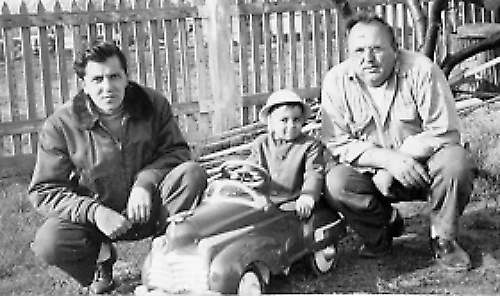 This photo was taken in 1948 in the backyard of the grandparent Micklus home. It shows the three generations of Micklus men. Lance is three years old in this photo. Note that the back yard now has a white picket fence around it to keep in the collie dog, Bootsie.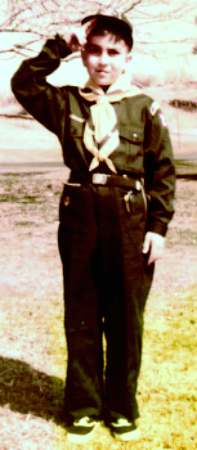 Grandmother Micklus always liked this photograph of Lance in his Cub Scout uniform. The photo is badly faded and there is no date. Most likely, it was taken at age 8.
SOUND COLLECTION
Click on one of the players below to listen to the music.
From Grandpa Micklus' original collection of 78 rpm records, here are two great polkas. There is no way to identify this music because the names of both tunes and the musicians performing these timeless treasure have been worn off the label.
---
(c) copyright 1997-2015 by Lance Micklus - All rights reserved