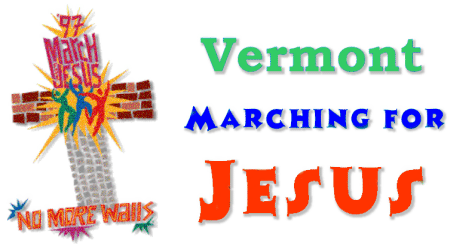 BURLINGTON 1997 MARCH

The generational theme of the March became very real as the City of Burlington simultaneously hosted a Kids Parade, an Elderfest, and the University of Vermont Graduation Day events! Approximately 1,000 marchers from 27 churches participated under mostly gray skies and cool temperatures.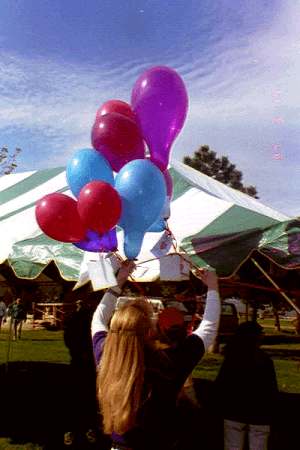 Over 250 balloons were inflated with a simple tract attached that said, "JESUS LOVES YOU." Most of the balloons were given to spectators on the street.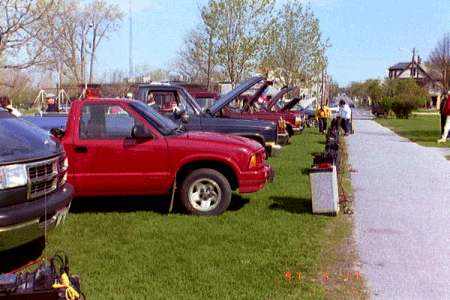 Eight trucks and two vans provided sound. The picture above shows these vehicles lined up waiting to be wired for audio. Special 200 watt mobil sound systems played pre-recorded music, specially recorded for the 1997 march.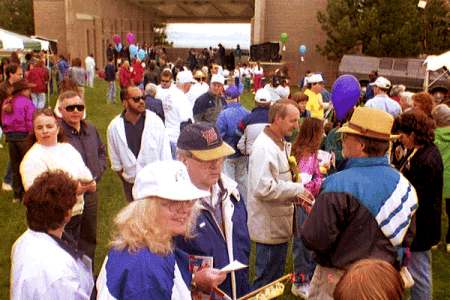 Marchers gathered in groups behind each sound truck. By this time, the sunny skies turned gray. Rain threatened but held off. A good breeze and cool temperatures made the air crisp.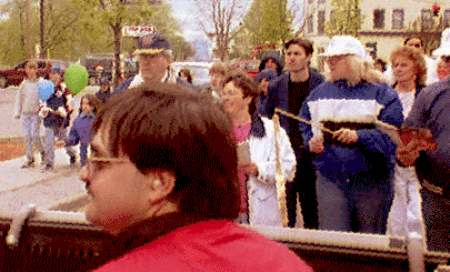 This shot out the back window of one of the sound trucks shows the marchers beginning their walk down North Street in downtown Burlington. In the foreground is the sound technician riding in the back of the truck running the music system.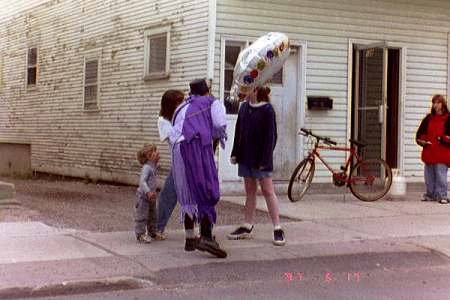 One woman, dressed as a clown, believed God had told her to look up at the Zaccheuses (see below) during the March. So she waved at the elderly and children shut in upper-level apartments, who waved back in surprise and joy to the people below. Shown here, spectators on the street are greeted with love and warmth.

During the march, an airplane flew overhead towing a banner that said, "Hey, Vermont! Jesus Loves You!"

Zacchaeus

(Luke 19:2 -6) A man was there by the name of Zacchaeus; he was a chief tax collector and was wealthy. He wanted to see who Jesus was, but being a short man he could not, because of the crowd. So he ran ahead and climbed a sycamore-fig tree to see him, since Jesus was coming that way. When Jesus reached the spot, he looked up and said to him, "Zacchaeus, come down immediately. I must stay at your house today." So he came down at once and welcomed him gladly.
---

Photography by Lance Micklus

Color Prints by Vermont Color Lab,
Essex Junction, Vermont

(c) 1997-2015 by Lance Micklus - All rights reserved