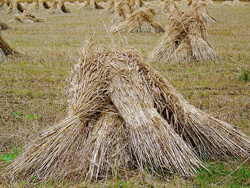 "Bringing In the Sheaves" was written in 1874 by Knowles Shaw. It was inspired by Psalm 126:6.
He who goes to and fro weeping, carrying his bag of seed, Shall indeed come again with a shout of joy, bringing his sheaves with him.
No matter how gloomy we may feel at the time of planting, there is always great joy when our harvest comes in. That joy is expressed in this version of the song played by the bears at The Teddy Bear Monastery™.