February 28, 1981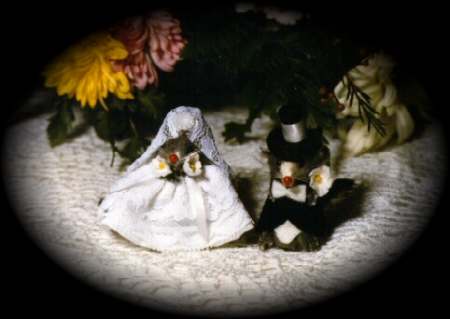 Wedding Party
At the time Lance and Dianne were married, Lance collected mice. The logo of his computer software company was a cartoon of a mouse dancing on a computer keyboard. These mice were found the morning of the wedding and became the bridal mice for the wedding.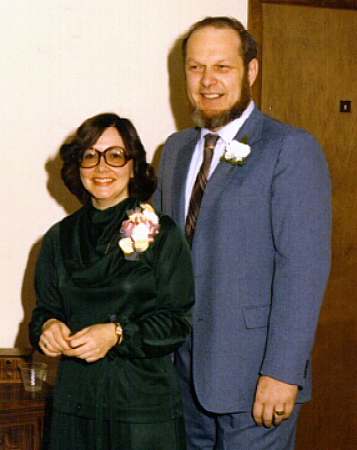 The maid of honor was Marie "Claudette" Betterley, who is Dianne's aunt (one year older). The best man was Willard "Kip" Campbell. Kip was Lance's supervisor when he worked at Vermont ETV in the 1970's. Today, Claudette is the town clerk of Stowe, Vermont. Kip now works for North Carolina Public Television.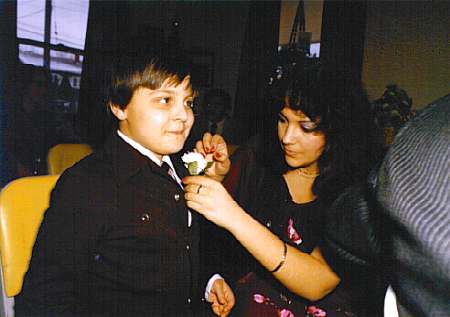 The ring bearer was Lance's son, Tony, age 12 at the time. Lance's sister Lisa is shown here adjusting the boutonniere on Tony's jacket.
The groom's family above is Lance's father, Steven A. Micklus, and Lance's mother, Aida Sargese. This is the last picture of Lance together with both of his parents. Lance's father lived in South Burlington, Vermont, and died in 1991. Lance's mother lives in Clifton, New Jersey, and is very active doing volunteer work for humane treatment of animals.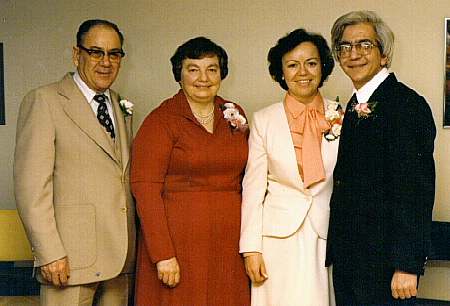 The bride's family above is Armand and Doris Carrier from Colebrook, New Hampshire. Armand is a retired plumber. Of their six children, the bride, Dianne, is the oldest and the only girl.
---
(c) copyright 1997-2015 by Lance Micklus - All rights reserved