NOTE: Links on this page will
open up a new browser windows.
CLOSE the window to return here.
One day on radio station WNEW in New York, host William B. Williams made an off handed comment that being a disk jockey was easy - all you had to do was play records and talk a little bit. Lance, then six years old, heard the comment on the car radio while riding home after a visit to his grandparents. That's when he made his career choice: To be a disc jockey. Twelve years later, he was.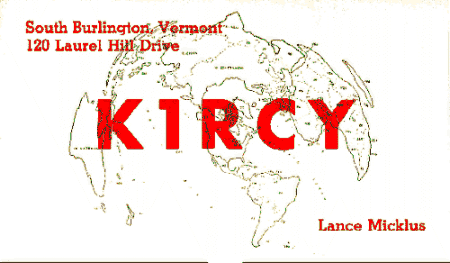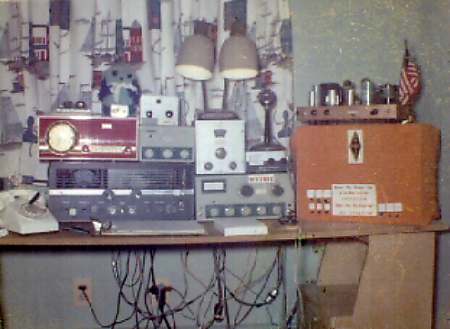 Above is Lance's original QSL card and a picture of his ham. Lance's voice was first heard on the air in 1961 on the 80 meter amateur radio band as K1RCY - a call sign he still retains. Lance's radio shack was located in his bedroom. He had a Hallicrafters SX-110 receiver, Heathkit Q-Multiplier (left of the red AM clock radio), DX-60 transmitter, and VFO. On top of the orange box (which is a speaker) is an Eico plate modulator. For an antenna Lance used an 80 meter dipole hung out over the back yard.

In 1962, the Micklus family moved to Hyde Park, New York. He had heard that somebody was building a new radio station and pursued the opportunity. WHVW - channel 95 (echo echo) - began broadcasting on July 4, 1963 as a daytime only non-direction station with 500 watts of power. The studios and transmitter were located at 495 Violet Avenue.
Station manager and part owner Thomas Durfey, thought Lance needed a better name on the air than Micklus. On July 7th, Lance went on the air for the first time using the name Lance Michaels. The above picture was taken in 1965 inside the control room of WHVW.
The major competition to the Poughkeepsie radio market came from the powerful New York City stations, especially WABC-77. But it was New York City's Jack Spector of WMCA that Lance patterned his style after, even though WMCA could just barely be heard in the Poughkeepsie area. In the late 1950's Lance lived in Burlington, Vermont when Jack Spector hosted the ALL REQUEST SHOW on WPTR in Albany, New York. It's during this time period, before WMCA, that Jack became Lance's mentor. Lance often made over-the-air tape recordings of Jack's ALL REQUEST SHOW on WPTR so he could listen to them during the day when the signal was too weak to reach northern Vermont. One of these tape recordings still survives and can be heard in ReadAudio by clicking the link at the bottom of this page.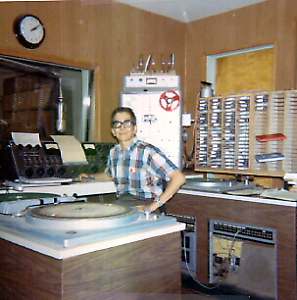 From 1966 to 1970, Lance worked part-time at WTVB-AM 1590/WANG-FM 98.5 (now WNWN) Coldwater, Michigan while earning a degree in Electrical Engineering at Tri-State College (now Tri-State University) in nearby Angola, Indiana. After Lance graduated, he work full-time at the Coldwater station for about one year. This photo was taken in 1969 at the Coldwater studios.
This was the golden era of THE BIG 8: CKLW whose More Music format made it the number one station anywhere its signal could be heard - including Coldwater, Michigan. Worse, WTVB had no format, not even a program director. Yet, with nothing to work with, Lance still created an interesting and entertaining Top-40 show. An air check of one of these prgrams can be heard in ReadAudio by clicking the link at the bottom of this page.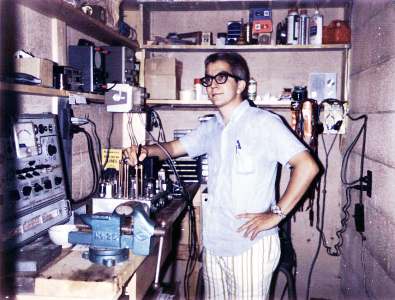 Lance's last radio assignment came in 1970 when he went to WION-AM 1430 (now part of the MRN) in Ionia, Michigan which also operated WYON-FM 101.3 (now WBFX), Grand Rapids. He was both chief engineer (shown above in his little work shop) and an on-the-air announcer.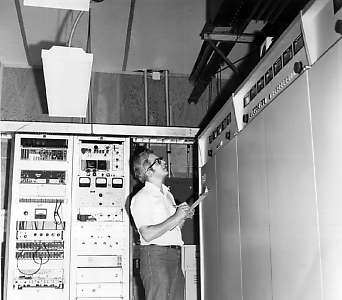 In October of 1971, Lance made the jump from radio to television by joining Vermont ETV. As a field engineer, Lance helped school systems install equipment to receive the broadcasts. He also maintained all of the networks microwave links and translator sites - located in very isolated areas. The photo above shows Lance working at one of the ETV transmitters located on the top of Mount Ascutney - WTVA, channel 41, Windsor.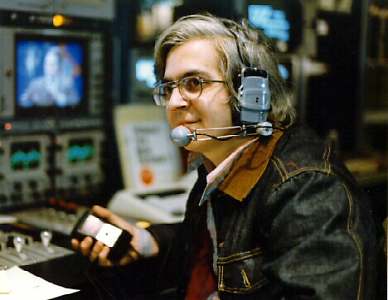 A few years later, Lance was assigned to the studios in Winooski as a production technician. He was directly involved in the conversion of Vermont ETV from a black and white station to a full color broadcaster. The station also benefited from his knowledge of color photography, electronic graphics, data processing, and creative skills.
SOUND COLLECTION
WPTR JACK SPECTOR ALL REQUEST SHOW
Most people remember Jack Spector as one of the Good Guys at WMCA Radio in New York City. But Lance remembers Jack Spector from the late 1950's when he hosted the ALL REQUEST SHOW on WPTR in Albany, New York. Jack was one of the original FABULOUS FIVE which included morning man and drive time personality Paul Flanagan (6:00 until 9:00 and 3:00 until 6:00). Bill Hickok handled the late morning early afternoon slots (9:00 until 11:30 and 1:00 until 3:00). Jack Spector cover the lunch time and early evening (11:30 until 1:00 and 6:00 until 9:30). John Sherwood did the late night shift after Jack from 9:30 until midnight. And Gene O'Hare was "the keeper of the flame" who did his midnight to six show from the transmitter. All of this was under the watchful eye of Duncan Mounsey.
This recording was made in March of 1959 from the over-the-air signal reaching Burlington, Vermont. There are signal fades and adjacent channel interferrence. You'll hear George Sweeney with Action Central News, commercials for Tex Wooley and Wheat Chex, and the famous WPTR chime time. The recording was made with a Wilcox Gay tape recorder which used a permanent erase head. If the tape touched the erase head, that part of the tape got erased. Unfortunately, while rewinding, the tape would sometimes buckle and touch the erase head leave a blank spot on the recording causing the dropouts you hear.
Two versions of this broadcast are offered here. Both have been adjust for speed and pitch. One version is the complete 55 minute broadcast, the other is a telescoped version of the same broadcast. Click one of the two streaming players below to listen to the version of the broadcast you wish to hear, or click on the Mp3 logo and download the Mp3 files to your computer.
This recording of The Jack Spector All Request Show may have an interesting future. Lance has written a movie called The Midnight Ride of Santa Claus which retells the legend of Santa Claus in a way that's never been known. One scene in the story has the helpers making and wrapping gifts for the sled while they are listenning to this broadcast from 1959.
Jack Spector died in March of 1994 of a heart attack while on the air doing a show on WHLI on Long Island, New York.
Click on the play button

to listen to the air check.

LANCE MICHAELS
WTVB/WANG-FM
AIR CHECK
This air check appears to have been made in the fall of 1969. WTVB was a small town radio station that had no format, no jingle package, it didn't even have a program director! There was nothing to work with. Worse, Lance had to complete with THE BIG 8: CKLW. Still, with all of that going against him, Lance created an audience grabbing show with his humor, interesting stories and facts, and his entertaining brand of on-the-air record requests.
THE STORY OF TOOTSY TULIP
One evening in early summer of 1969, Lance and his wife, Dolores, visited their friends, Dean and Marion McMullen. Dean was a salesman at WTVB/WANG-FM where Lance worked. Marion (shown in the photo) worked at one of the beauty salons in Coldwater. During the visit, as a joke, Marion brought out her ukulele and began to sing Kitty Kitty in the style of Tiny Tim's Tip Toe Through The Tulips. Lance recorded it on a cassette recorder he had with him.
The following day, Lance came up with the idea of playing Kitty Kitty on the air as if it were a real record that had just been released. To make the ploy more believable, he credited the song to Tootsy Tulip. Surprisingly, listeners actually thought this was a real recording. Some thought it was cute, others thought it was horrible. The merits of the song were even a hot topic of conversation at the beauty salon where Marion worked - but no one knew she was Tootsy Tulip.